0

idea
Join in global celebration 50th anniversary Dr Martin Luther King Jr historic I Have A Dream speech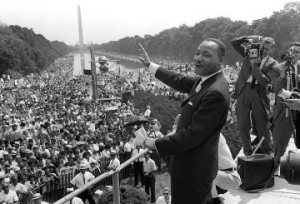 beCause and Nadine Hack scheduled a G+ event you cannot miss.
NadineH : "On August 28 at 3:00 pm EST, 50 years to the hour of the exact time and date when Dr. Martin Luther King Jr. gave his famous I Have a Dream speech, the King Center is calling on us to reaffirm Dr. King's message of "Let Freedom Ring." Click here to watch speech. The King Center hopes there will be programs in sites globally and they encourage local creativity, like: Arrange to ring the largest bell (and/or as many other bells) in your city, state or nation; Encourage churches, temples, mosques, community centers and schools to ring bells; Create any other activity – small or large – that would have meaning where you live."
You can join the G+ event at this link.
King Center CEO Bernice A. King said, "Join us as we pause to mark the 50th anniversary of my father's 'I Have a Dream' speech with 'Let Freedom Ring' bell ringing events that affirm the unity of all people of all races, religions and nations." Let's come together around the globe to commemorate history: let freedom ring!

React to this idea
---
2
12
Nadine Hack CEO, beCause Global Consulting
Aug 26, 2013
Thanks for sharing this info Antoine. This Wednesday August 28 gives all of us a chance to reaffirm our commitment to dignity and freedom for all people globally. I have worked with the Mayor of Montreux, Switzerland so bells will ring there and there's been an overwhelming response to this outreach from Bulgaria to Bangladesh to Tokyo to Sydney to South Africa and beyond. Whether people reading this organize something formal or make a quiet personal vow, I hope your conversation sparks provocative reflection on making our world better.
Comment on this reaction
---